Episodes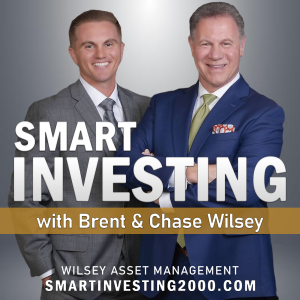 Monday Oct 17, 2022
Monday Oct 17, 2022
Inflation
Inflation numbers were released today rising 8.2% over the past year. Initially the markets were down about 2% but by the end of the day markets rallied up over 2%. Perhaps inflation is not as bad going forward as we think. One reason for that is the lapping of year over year. September 2021 inflation began increasing rising 5.4%, October 2021 at 6.2%, November 2021 up 6.8% and December 2021 inflation increased by 7%. What I believe is happening and why I think we will see inflation slow down its supply chains have improved, consumers have pulled back on some of their spending (reducing demand) and as we lap higher inflation numbers from the previous year the percent growth will not be as high. 
Tomorrow morning Friday the 14th the big banks release their third-quarter earnings. Very important to hear what they say if there is not unexpected bad news in the reports I believe it would be seen as a positive and we could have another rally.
Strong Dollar
Earnings will be coming out over the next few weeks and the strong dollar which is up about 17% against the weighted index could play havoc on some companies with big earnings coming from overseas.
I was surprised to see that QUALCOMM gets 96% of its revenue from outside the US. Other companies that you need to watch out for would be caterpillar with 62% of revenue from outside the US and even meta-platforms and Netflix both receive 59% of the revenue from outside the US. Another surprise to me was Citigroup with 52% of revenue from outside the US.
Crypto
With the decline in the crypto market, investors are becoming less comfortable with the space. According to a recent Bankrate survey, in 2021, nearly 35% of Americans said they had some level of comfort investing in digital currencies, compared to about 21% in 2022. Millennials saw an even larger fall with 49% in 2021 saying they had some comfort level investing in digital currencies and that fell to almost 29% in 2022. My guess of why this is the case is digital currencies have yet to show a meaningful use. It has not proven to be a viable currency for transactions, it has not proven to be an inflation hedge, nor has it proven to be a hedge against declining stock prices. I still don't see the allure of investing in this space.
Cars
The problems are starting already with the forced demand of electric vehicles. Lithium which is used to make the batteries have tripled in price this year and there's no end in sight for supply meeting demand. Lithium is not used just for electric vehicles but also for grid energy storage. You may be thinking no problem just produce more lithium which is nice and theory but not reality. To bring new production online studies must be done, permitting, capital must be raised before any lithium is produced which can take 3 to 5 years.
It's always a disaster when the government forces demand on any type of product, what it does is increase prices that the consumer ends up paying for.
Oil
The leaders of United States continue to put the country in peril trying to force green energy too quickly. We are now going to deal with the nasty regime of Venezuela to pump oil to help our situation. For this use of oil the best we got is that their dictator said he will open talks if the US eases sanctions. To me that's the same as giving a kid who did something wrong a gold star and tell them not to do it again.
Since talks with OPEC did not go well the leaders of our country have decided to retaliate against OPEC and Saudi Arabia. They are now threatening legislation that would charge OPEC members and subject them to US antitrust law. Have our leaders forgotten the 70s how the oil embargo crushed our country on the energy. It's like we are trying to play chicken with them and that's a game we will lose. I wish people would write their Democratic congressman and everyone else to please get on the side of the oil companies and start pumping as much oil as we can.
And please vote in November not for who's personality you like but who you think you do the best when it comes to running our country
Inflation
People are concerned about the rising debt of the federal government, as they should be. We are also concerned about rising inflation but you may not realize that rising inflation is a positive for the debt situation of the government. The reason is that it makes the debt more manageable because it will be repaid in less valuable nominal dollars. The debt also declines in real value because with inflation of 10% cumulative $30 trillion is now $33 trillion and the debt remains at $30 trillion.
Fossil Fuels
People on the green side want to completely eliminate oil and fossil fuels. We have spoke many times about how oil is also used for many things like plastics, IV bags and clothing that use synthetics along with thousands of other items. One can't just use the refined oil for asphalt which makes up 94% of all US road miles that are paved. Asphalt is made from a byproduct that is left over after the process of making fuel.
 I don't think people who want to illuminate fossil fuels have thought this process through.
Nike
If you've been holding onto Nike since November 1 of 2021 you have seen the price fall from $177 a share to current price of around $88 a share, roughly a 50% decline. Unfortunately another number does not bode well for the stock and that is the inventory numbers for Nike which have climbed 65% from a year ago. You may want to sell the stock and buy those Michael Jordans you've been wanting to get.
Businesses
Things in the third quarter 2020 was 5% that has now decline to 3.2%. Currently Businesses are paying more per square foot in warehouses, last year in the third quarter it was $7.13 a square foot, the average has now climbed to $8.70 a square foot. What does that mean to you as a consumer? Retailers want to get rid of these items costing them money just sitting in the warehouse. Consumers could see some great sales coming up in the future, keep your eyes open.
Used Cars
The used car market could be improving soon with vehicle inventories increasing to 33 days worth of supply in September. That was four points higher than August, one year ago inventories were only lasting 20 days. What is surprising to me is that car payments over $1000 hit a record 14% of sales nearly double 8% of sales one year ago. If you're car shopping you may want to be patient, used vehicle prices came down 3% in September from August. There could be more to come, you may want to keep that old clunker running a little bit longer before spending more on a new ride.
Lumber Prices
I recently posted that lumber prices have fallen nearly 60% this year which will help ease inflation. Also dropping dramatically is PVC which is a plastic that makes pipes and other uses as well. It is down nearly 50% quarter over quarter. This could affect Warren Buffett's 20%purchase of occidental petroleum stock which is one of the three largest suppliers of PVC. I know Mr. Buffett purchases for the long term but it may take some time for the company to make up that lost revenue.
Meme Stocks
I was reading last night and the meme stocks popped into my head. I remember when this hype was going on people were saying fundamental analysis is over. Well once again the strong will prevail, let's take AMC entertainment for instance, back in 2021 the stock traded as high as $56 a share. Where does it stand today? right around six dollars a share roughly 90% below the $56 peak. I feel kind of bad for people who were playing the special speculative game with the meme stocks. But on the other hand there was plenty of information out there telling the meme investors this was not going to last. Hopefully many have learned a valuable lesson about investing.