Episodes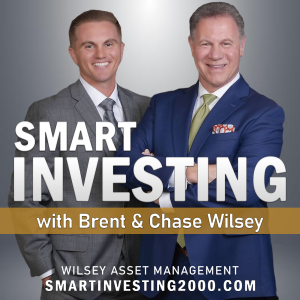 Monday Sep 19, 2022
Monday Sep 19, 2022
Inflation
The market is not liking the CPI report today as the inflation rate of 8.3% topped the expectation of 8.0%. It was down from July's 8.5% rate, but it remains stubbornly high and likely cements a Fed Funds Rate increase of 0.75% at next week's meeting. Energy was down 5.0% in the month and gasoline was down 10.6% in the month, but year over year energy is still up 23.8% and gasoline is 25.6% higher. Food remains one of the major concerns as prices increased 11.4% year over year. Shelter, which occupies close to 1/3 of the CPI, also remains high with the year-over-year gain at 6.2%. With the huge surge in housing prices over the last couple years I continue to believe this category has more room to run over the coming months. I also worry that while energy prices have come down month over month, companies have not been able to effectively offset these costs and more price increases could be on the way. This remains especially true in the transportation services component, which saw a year-over-year gain of 11.3%. Inflation remains a major problem in the economy, but I still believe we can exit 2022 with an inflation rate of around 6% barring a major supply chain disruption or a major spike in energy prices.
Oil
We keep saying we need to pump more oil here in the US and some people are saying the Biden administration is doing everything it can. In the first 19 months the administration will have leased federal acreage for oil drilling of 130,000. At first glance that may sound like a lot, but it is the lowest amount of acreage leased since President Kennedy in the early 1960s. Do you want to guess what our energy consumption is now compared to 60 years ago?
IPO's
With a difficult market in 2022 initial public offerings also known as IPO's have really been rather scarce. It has now been over 115 days since the last traditional IPO of more than $25 million. The last time that happened was in 2008. I don't believe much will be changing for the rest of 2022. At this point in time, we're taking a wait-and-see attitude for 2023 and will be having a clearer view of what to expect from markets probably by mid-November.
Bitcoin
When the country El Salvador made bitcoin its legal currency bitcoin advocates promoted this is the beginning of worldwide acceptance. You haven't heard much about how bitcoin has done in El Salvador because it has been a disaster at best. The poor country which has $800 million in government bonds coming due in 2023 and 2025 is current looking like they will not be able to make that payment. Yet they're authoritarian rule leader Bukele has spent $250 million on digital infrastructure including setting up 200 bitcoin ATMs which apparently have high fees and can take up to six hours for a transfer from dollars to bitcoin. The country set up digital wallets for its citizens with a $30 bitcoin bonus. After the citizens used the $30, 80 percent never used it again. 92% of the small and medium size businesses say it has been immaterial for them and prefer cash or credit cards. The IMF, the world bank and international bond markets still oppose bitcoin and no other country has followed El Salvador in making bitcoin their currency after a year in existence. The citizens of the country still prefer to use what they have use this 2001, the US dollar.
Entertainment
Amazon is really pushing forward in the entertainment industry spending $15 billion this year on that division. They face heavy competition from companies like Netflix, Disney, Paramount, and Warner Bros. discovery. The consumer could win here with all the competition prices should remain stable and not increase for a while
Transportation
One potential event that could be absolutely disastrous for inflation and our economy would be a U.S. rail strike. Currently, 10 of the 12 railroad worker unions have struck deals with companies like Union Pacific, Norfolk Southern, and CSX, but the remaining two unions, Brotherhood of Locomotive Engineers and Trainmen and the International Association of Sheet Metal Air, Rail, and Transportation Workers continue to holdout due to disagreements over attendance policies. While a large majority of the unions have settled, these two unions represent over 90,000 rail employees or about half of railroad union workers. It's estimated that a shutdown of this magnitude could cost the US economy $2 B/day. It would also create a new supply chain crisis that would send shockwaves across many retailers, transportation companies like UPS and FedEx, and have a negative impact on food prices. I'm optimistic we'll see a deal by late Friday, but if not congress can step in to block the strike.  
US Jobs
It doesn't seem that long ago we were complaining about US jobs going overseas. Well, that trend seems to be reversing with an expectation of 350,000 jobs returning to the US this year. That is the largest increase since 2010.
Producer Price Index
As an update to our CPI post yesterday, the Producer Price Index (PPI) was released today and saw an increase of 8.7% compared to last August. This is the lowest increase we have seen since August of last year and it is well off the highs we saw of 11+%, but at this rate I believe companies will still need to pass on these higher prices which will continue to cause elevated rates in the CPI.
Banks
Banks get audited every year to verify that all the numbers are correct, and your money is safe. How would you feel if you found out that your bank has not gone through an audit in five years but was saying they will try to get one done in a few months? Well, that is what crypto firm Tether Holdings is saying. They are the firm that is promising each token can be redeemed for one dollar. They have been promising to do an audit since 2017 and now the chief technology officer of Tether Holdings Limited is saying it is just months away. I don't know about you but when a company is avoiding audits for this long, I believe they have a lot to hide. Could this be the other shoe to drop on cryptocurrencies with no bottom in sight. I still wonder why anyone would hold onto any type of cryptocurrency with a hope that it will rebound in the future.
Crypto
There are some big changes in the crypto world with Ethereum. It has changed from what is known as proof of work to proof of stake. The big benefit is it's change will improve energy efficiency by more than 99%, which has been one of the big concerns on cryptocurrency production. The risk with what is being called "The Merge" is there could be glitches, outages or even lost tokens as the current Ethereum blockchain merges with the new one called Beacon. It appears it went smoothly last night, but it's important to follow the next few days as well as the merge settles. There are also other losers such as mining companies who have spent hundreds of millions of dollars on hardware. And even the large chip maker Nvidia, who produces chips for miners, cannot predict how this will hurt their demand. Year to date the stock is down over 50% perhaps the writing was on the wall.
China
China exports to the US in August fell by 3.8% year over year. This is good and bad. It's nice to see the decline in imports from China; however, that may be putting a squeeze on some products that we use and that could push up inflation on those products.
Office Vacancy
Office vacancy in the city was 17% in the second quarter compared with office vacancy in the suburbs at 16.8%. It's the first time that has flipped since 2002. More people are now going back to the office; however, it appears they prefer not to go into the city but to the suburban offices instead.