Episodes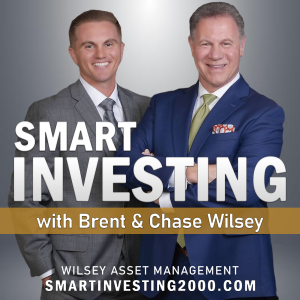 Monday Oct 03, 2022
Monday Oct 03, 2022
Global Economy 
The global economy is dropping dramatically, but the US is the bright spot. I always tell people we do not depend on the world to buy our products we buy products from the world. Some bright news that might help you hold on during these difficult times is according to the Wall Street Journal, some US manufacturers are bringing production from overseas back to the US and are boosting investment. It should also be noted that contracting US business activity was better in September than in August. The US composite purchasing managers index, which includes both manufacturing and the service sector, climbed to 49.3 in September, a nice improvement from the August showing of 44.6. We are not out of the woods yet but do not sell your quality equities that are well priced and have a good business. And don't forget to look down the road a year or two and not a week or two!
Costco 
I love going to Costco as do many other people. You get some great deals in the warehouse but one deal that is lacking is the stock price. The stock is down roughly 20% from the $600 high but with the price/earnings ratio still over 37 that is no deal. They do have a great business model and there is a potential membership price hike perhaps next year. Even with that, 48% of Costco members in a recent survey say they're willing to pay more for their memberships. Costco depends on increasing volume as the profit margin always hovers around 3.6%. If volume falls off the stock price could tumble as well.
Market
Trying to time the market has always proven to be a dangerous game as it is heavily reliant upon one's emotions. In the long term you have a better chance of winning the lottery. Many people don't realize how quickly stock prices can move and by the time stocks have risen they are left asking the question of whether they should get back in or will they fall again. Looking back over the last 40 years the best 10 days (out of more than 10,000) accounted for almost two-thirds of the stock market return & in the last 20 years, the best 10 days accounted for 75%. Through the beginning of this year the market returned 284% over the last 20 years, but had you missed those 10 best days the total return was just 76%. The funny thing is the massive up days all came in the most difficult years of 2008, 2009, and 2020. The single day returns ranged from 6.3% - 11.6%. Nobody knows what is going to happen in the short term as there are too many variables to try and predict. That is why owning great businesses at great prices has proven to be a successful long term approach to investing.
Income Increase
US median household income was $71,000 for the year 2021 which was pretty much unchanged from 2020. That was quite a surprise, I believe we will see a jump in 2022 when those numbers are released about a year from now.
Luxury Homes
Luxury home sales have hit a brick wall dropping 28.1% across the US for the three months ending August 31st. No surprise California was hit the hardest with sales falling 64% in Oakland, and San Jose as well as our hometown San Diego saw decreases of more than 55%. So far prices have not dropped significantly, but as sales continue to drop, I believe people will reduce the sales price of their homes not wanting to see the big gains vanish and they will start cutting their prices to keep some of the profits. Those who wait too long could be very disappointed I believe we will see a far different luxury market in the spring of 2023.
Apple
Apple has dropped plans to increase production of the iPhone 14 saying demand is not as strong as anticipated. The stock fell while the market was up and could be a big problem if sales and earnings are worse than expected.
Oil
 After the strategic petroleum reserve reached lows not seen since the 80s the government is considering the idea of getting into energy trading. Their idea is to buy oil when it is under $60/barrel and when it goes above $90/barrel to sell and use profits to fund electric vehicle infrastructure. I can't wait to see how well the government does trading commodities such as oil.
Electric Vehicles
 I have often wondered if EVs are so great why are there so many subsidies to get people to buy them? The International Energy Agency says that by 2050 if projections go as planned annual global lithium production will be 28 times what it is today. In the past we have talked about the problems with how the batteries are made and the use of cobalt which comes from Congo using child labor. But with that type of high demand on lithium batteries, prices will multiply. In just one year they have increased by 300%, can you imagine the cost 24 years from now with a 28 times increase in demand? There's also a new report from the US energy department laboratory that electric cars total lifetime cost will be 9% higher than a gasoline car. I believe there's a lot of hype in electric vehicles and in the distant future we will question what we did and question electric vehicles.
September
As we anticipated September has been a difficult month, but we still remain extremely optimistic about our businesses with many now trading around 6-8x earnings. Remember the long-term historical average is 16.6. Much of the selloff has been driven by fears over the Fed hiking interest rates. I want to take you back to 2018 when Fed fears led to a stock market selloff in the month of December of close to 16% in that month alone. The Fed was raising rates and it was feared they were going to increase rates two more times in 2019. This ended up being an overreaction and the Fed ultimately ended up cutting rates in 2019. This led to a rapid increase in stock prices with the market climbing more than 19% from its low on December 26th, 2018, through February 22nd, 2019. For the full year in 2019, the market climbed 29%